Here is our new edit from round 1 of the 2013 4X ProTour in Szczawno Zdroj, Poland. Hope you enjoy:
Comments are turned off for this item
Scott Beaumont
Qualifying – 3rd
Race – 3rd
Dave Richardson
Qualifying – 33rd
Race – 29th
Hi all,
Just back from a fantastic weekend in Poland at round 1 of the 2013 4X ProTour. The race was held in Szczawno Zdroj at one of the best 4X tracks in the world. Immaculately prepared every year, the track has it all. High speed, low speed, technical jumps and 50 foot pro line doubles. It is a challenge for all the riders, but one which they all love.
The weekend started for us on Friday – or it was supposed to. It rained all day long and the decision was taken to cancel practice and extend it for the riders on Saturday to compensate. It was definitely the right decision and all the riders agreed.
So Saturday arrived and we were eager to get out on the track. Finally the sunshine was out and the forecast was for a dry day. Both Dave and myself took our time as the track was drying out from the rain during the previous day. We got to grips with everything quickly and already were up to race speed. After a break for lunch, the Pro Line was opened up for those who wanted to hit it. Two 50 foot doubles that have to be jumped really precisely had been closed all morning to try and get them as dry as possible.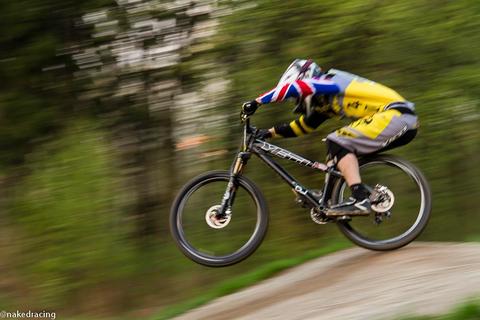 I was one of the first riders over them and felt really confident. Dave, like many of the other riders chose to stick to the alternative line and carry speed around the jumps.
So it was time for qualifying. Qualifying goes in reverse order using the UCI world rankings. First up for the team was Dave. He put in a solid run with no mistakes and crossed the finish line in 2nd. An awesome ride and this was going to be enough to guarantee him his place in the finals. In the end he placed 33rd which really exceeded his expectations. An awesome ride that we were all proud of.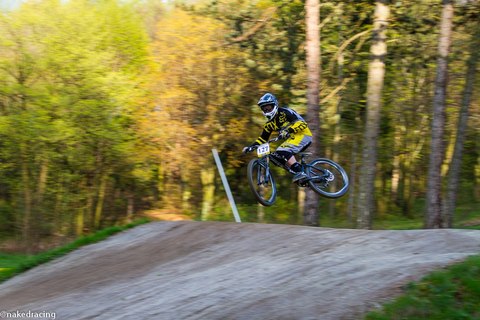 My run was third from last rider. I made a great start and put together a great lap. Crossing the finish line I wasn't sure how quick it was but as I looked back I had gone into 1st position. Stoked. Michal Prokop was next and he just beat my time by 0.25. Finally Tomas Slavik bumped me down to third as he posted the fastest time. I was happy with 3rd though.
So it was onto the finals. Dave's qualifying position meant he would race Tomas Slavik in the first round – daunting for some but Dave was excited. He made a great start but got passed in the first turn and was in 3rd. Lower down the track he made a great pass to move into 2nd. He held on to the finish line and qualified with Slavik to round 2. Already this was his best result ever! In his 2nd race, Tomas Slavik and Quentin Derbier battled for the lead and checked out. They both went on to make the final so they were a pretty formidable 2nd round match. Dave finished 4th in this race, but as the only British senior category rider racing, his result of 29th overall is very impressive.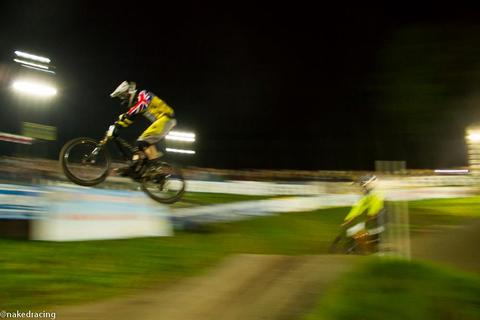 I was feeling great. I won my first round, won my second round and won the quarter final. In the semi final Michal Prokop took gate 1, I was in 2, Jakub Riha in 3 and Felix Beckeman in 4. I made a great gate and matched Prokop on the first straight. In the first turn I dived inside but couldn't quite pass Prokop. I settled into 2nd and held that position to the finish line. So next up it was the final. Slavik took gate 1, Prokop then took gate 4!!!!! It was a great opportunity for me and I took gate 2 with Quentin Derbier in 3. I made the best gate of my night and led the race down the first straight. Slavik then just got ahead of me over the logs and I was in 2nd. I hounded him all the way to the last straight where it all went a bit wrong. I hit a drainage pipe on the last straight and nearly went over the bars. It is a drain pipe that is sunk into the track but it gives you a kick if you take off over it. I lost a lot of speed and Prokop then started to close on me. It is a long straight and with the horsepower Prokop has, I just could not hold him off. Across the line I finished 3rd. I was gutted that I threw 2nd away, but it was just a silly mistake from me.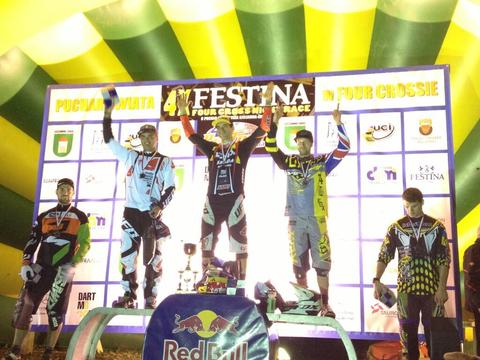 Thanks to Naked Racing for the photos.
Here is the official film that is featured now on www.pinkbike.com courtesy of Pete Newman and Chris Ratford. Enjoy:
Comments are turned off for this item
Here is Chris Ratford's edit from round 2 of the Schwalbe British 4X Series, edited by Pete Newman.
Another great day for Yeti Racing UK. Enjoy:
Comments are turned off for this item
Great edit from the www.moredirt.co.uk guys from round 2 of the Schwalbe British 4X Series last weekend in Falmouth, Cornwall.
Comments are turned off for this item
Just back home from round 2 of the 2013 Schwalbe British 4X Series which was held at a brand new track in Falmouth, Cornwall. When we arrived on Friday, the track looked awesome. A huge new 4X facility for the UK. 11 turns on the track, 4 of them flat turns, big pro line and a fun rock garden. We walked the track a couple of times through the day and got ready for Saturdays official practice session.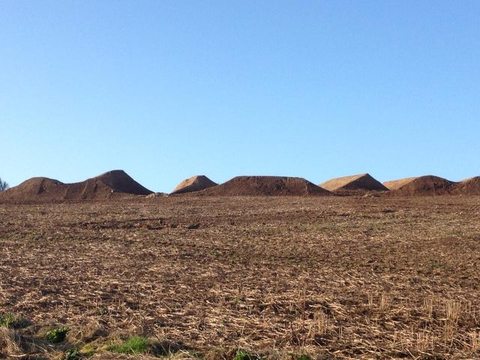 Blue skies and perfect conditions for us on Saturday meant a fun day on the track. There was a lot to learn, but both me and Dave Richardson got to grips with it quickly and we were feeling confident for the race.
On Sunday, the skies were grey. It was dry but rain was forecast. Practice went well and we were both feeling great. The motos got underway and it was a bad start for Dave. Leading his first moto, he crashed on one of the lower turns. It was an unlucky crash, but he bounced back to win his next 2 motos and transfer into the quarter finals. The crash in his first moto meant that Dave was not going to have gate choice which could prove to be a problem.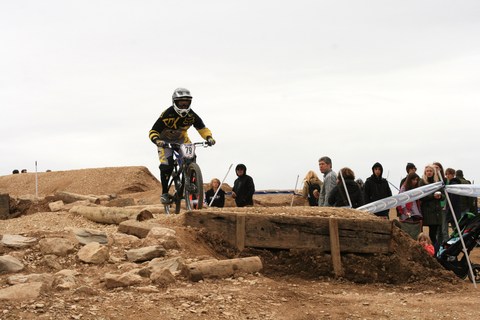 In his quarter final, he made the snap and got away from gate 2. Led the race start to finish and booked his place in the semi final. In the semi final, it was a repeat. A perfect start gave Dave the lead and he just did not look back. So he was into the final. However, the rain was niow falling hard. Dave took the option to change his tyres from Schwalbe's Nobby Nic to a Dirty Dan. It was a move that gave him the edge. A great start and a lead around turn 1 that just grew and grew all the way down the track. A brilliant win that gives him 2 wins from 2 now for the national series and of course the overall series lead.
I felt really confident. Tomas Slavik and Felix Beckeman had flown in to race which added a little spice, but I was looking to try and get the better of them.
In the motos, I won my first 2 races. Then in the third moto I was racing Slavik. He got the snap from the inside gate. I came across to get on his wheel into turn 1. It was a close race all the way down. I was on his wheel looking for a passing place, but just couldn't quite get him. It was good to see his lines and try and use them later when I would meet him again in the final.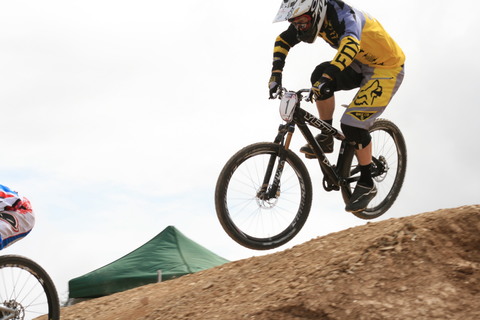 In the quarter finals I raced Felix Beckeman. I made the gate and we battled through the first 3 turns. I got into the lead and held it to move in the semi finals. In the semi finals it was a battle with me, Felix and Lewis Lacey. I got the snap and led from start to finish. Lewis held off Felix for 2nd.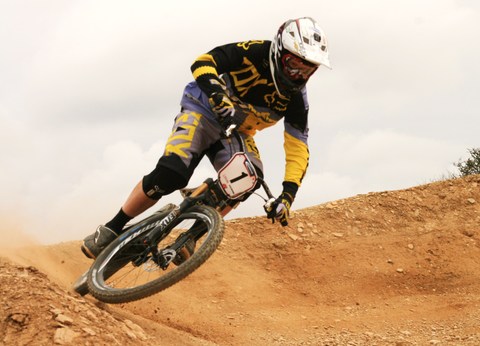 In the final Slavik had gate 1, I went from gate 2, Lacey in 3 and track builder Will Evans in 4. I made a great gate and matched Slavik to turn 1. He led into turn 2 but I carried good speed to the inside and took the lead. Slavik then passed me into turn 3. I sat on his rear wheel through the pro line and rocks then went for it to the outside. Through a series of 3 turns I nearly got passed him, but just couldn't quite thread the needle. A slip on the last straight from me nearly caused me to crash but I held on to take 2nd. I was happy to have been involved in such a great final and can't wait to resume the racing with Tomas in 2 weeks at the first 4X ProTour in Poland. This 2nd place finish for me extends my series points lead after 2 rounds.
Comments are turned off for this item