Elite Men:
Schwalbe British 4X Series Round 1 – Harthill, Cheshire, UK.
Scott Beaumont – 1st
Dave Richardson – 4th
Well it feels great to finally get the season started! After a few warm up events on Enduro and BMX, Scott and Dave came into round 1 of the 2014 Schwalbe British 4X Series in better shape than ever. A tough winter training schedule was over and now it was time to see where they were.
Round 1 of the 2014 Schwalbe British 4X Series was held in Harthill, Cheshire. The track is sandy and loose, but this was a great asset as the weather forecast for the weekend was rain and plenty of it! We set up the Yeti Racing UK tents whilst Scott and Dave signed on then it was time for practice.
Practice got underway at 9.30 and although there was some rain it wasn't as bad as had been forecast. The wind was strong and it was causing some problems on the Pro Line, but not for Scott and Dave. They were flying in practice and looking confident ahead of the racing. Their gates were spot on, corner speed was good and they seemed to have the track dialled.
Racing started at 12.30. It wasn't a great start for Dave. A crash in moto 1 gave him a 4th position. Not ideal, but all credit to him, he shrugged this off and bounced back to win his next 2 motos to qualify into the semi finals. Scott was on it, winning all his 3 motos and looking like he was the man to beat on track.
The semi finals were announced and it was great news for us! Scott and Dave were in the same semi final and had 1st and 2nd gate choice. Scott took gate 1 and Dave took 2. The gate dropped and Scott made a trademark great gate. Dave tucked in behind him and it stayed that way to the finish. Both were now into the final.
Final time. This time Yeti Racing UK would occupy the extreme gates. Scott was on 1 and Dave was on 4. Scott fired out of the gate and led through the first 2 turns. Dave was battling for 2nd but got bumped back to 4th. On the pro line it all nearly went wrong for Scott. The strong cross wind caught him on the landing of the first double and he had to hit the brakes. Rolling the step up jump, it allowed the others to close up to him again. However a smart last 2 corners from Scott sealed the win by a couple of bike lengths. Dave had to settle for 4th, but in his first race in the elite category, it was a fantastic result for Dave and the team.
Throughout the weekend both our riders were filming with Pete Newman, who will be producing all our team edits in 2014. The first episode featuring Harthill will be released later this week. We will send you a link as soon as it is live.
Dirt were also there filming the event so look for our riders to feature heavily in that film.
The next event for our riders is round 1 of the UK Gravity Enduro Series this weekend - April 12th/13th at Ae Forest.
Full report with you all next week.
Comments are turned off for this item
Well after a great winter of training, our race season officially gets underway this weekend with round 1 of the 2014 Schwalbe British 4X Series.
In 2013 Scott Beaumont retained his Elite men's British 4X title with a perfect overall score of wins. Dave Richardson took the overall title in the senior men's as well giving the team a clean sweep of titles. This year it is all change as Dave Richardson makes the jump up to the Elite class to battle with Boom Boom and the rest of the elite field.
As in 2013, Yeti Racing UK will be editing a film from every round in 2014 and these will be online early next week.
We will also have a full race report with photos here on Monday.
Also next week, look for the team in the official Schwalbe British 4X edit and watch out for the Yeti Racing UK team launch film that will be released mid next week.
A lot going on, but for now, the training is done, it's time to go to work.
Social Media:
Keep an eye on the team social media over the weekend:
www.twitter.com/yetiracinguk
www.facebook.com/yetiracinguk
Comments are turned off for this item
4X World Championships
So one week after the 4X ProTour finals, it was time for the 2013 4X World Championships in Leogang. A fresh race and a chance to redeem my mistakes from a week before.
Practice went well. I was trying different lines and I was ready for a shot at the title. First up it was qualifying.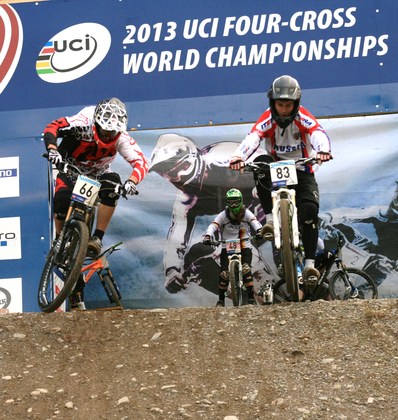 Qualifying was good. Like all riders I had to contend with a tough head wind that was swirling on the big doubles lower down on the track. I had a perfect run, until the doubles where the wind was just too strong to go for them. I went around, but aside from that a perfect run. It was good enough for 5th position. I was pretty happy with that and knew that there was a little more in the tank for racing when the wind would drop and I could hit the big doubles.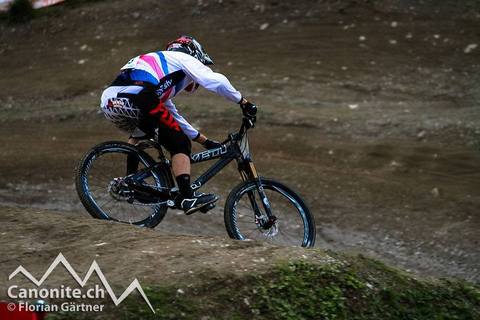 Onto racing. I won the first round pretty easily. Then I won the second round, again feeling good. In the quarter final I had gate 2. Derbier was in 1, Pesko in 3 and Riha in 4. I made a great start, but could not quite get across. I was in 2nd heading into the proline. I carried good speed, but Riha, just let go of the brakes and went for it. We collided on the landing and on the next step up we both got ejected off the bikes. It was a horrific crash that in all honesty I am very happy to have simply walked away from. I got back on my bike and finished 3rd in that race which was enough to give me 9th in the World Championships, but the dream was over and the World Championships were done for us.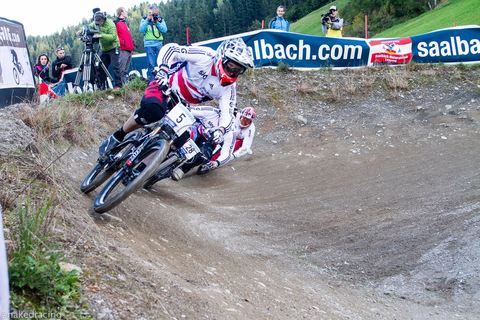 The film footage of the crash is pretty wild. Here is Dirt TV's film – my crash is at 1.00 minute exactly:
The full replay of the race is still available on Red Bull TV:
Comments are turned off for this item
Thanks to PinkBike and Pete Newman for supporting the 2013 4X ProTour and producing the fantastic films throughout the season. Here is round 5 from leogang, Austria.
Comments are turned off for this item
4X ProTour finals – Leogang
Qualifying 24th
Race 12th
Well, our final races of the year just did not go to plan. I'm sure many of you saw the 4X World Championships live on Red Bull tv, but a week before we also had our final round of 4X ProTour – also in Leogang.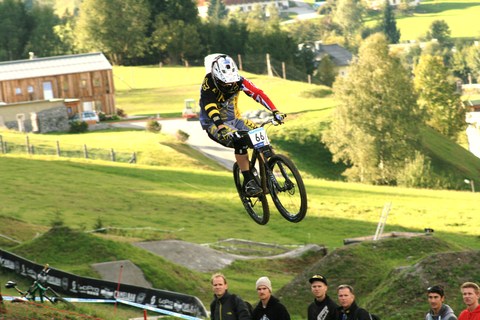 Heading into Leogang I was ranked as the UCI number 1 for 4X so I was the final rider to qualify. Unfortunately it was not the best position to qualify in as the rain started at the beginning of practice and it changed the track throughout. I set off from the start and was on a good run until the Pro Line doubles. I slid on the take off and was out of control in the air. Somehow I saved it and did not go over the bars but I ran off the track as I was still out of control. I crash lightly, jumped off the bike and ran up the next jump before I got going again. As I crossed the finish line, I was 5 seconds behind the fastest time and down in 24th. It was a disaster, but at least I was uninjured.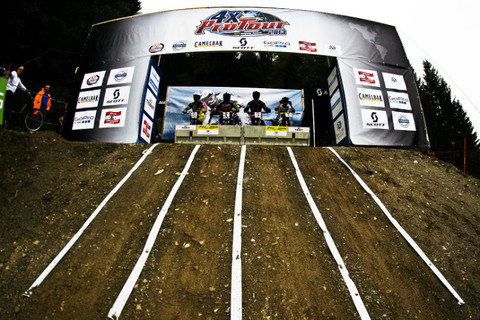 Race day came around and I was up for the challenge.
I won the first round and won the second round. In the quarter final though, it all came unstuck. I had the outside gate due to my qualifying position and was up against Mechura (fastest qualifier), Derbier (5th overall in ProTour overall) and Joey Vejvoda who was riding really fast on his full sus bike. The gate dropped and I went into turn 1 level but then hung out to dry on the outside. On the second straight I moved into 3rd then made a move for 2nd but got cut off again. I was in 4th and had to regroup fast. Leogang has a long, fast straight with big jumps on the fourth straight. I exited the turn and gave it everything. Moving into 3rd then nearly 2nd, until I was cut off again. It was 3rd in the quarter finals for me which would give me 12th for the day.
I was gutted as I was riding at my best all weekend, but a crash in qualifying and then an outside gate in the quarter final just made the race slip away.
This result was good enough to put me in 4th position in the 2013 4X ProTour overall standings.
We had a fantastic year in the ProTour, with some amazing results throughout the year. We will be back in 2014 to try and claim the overall title.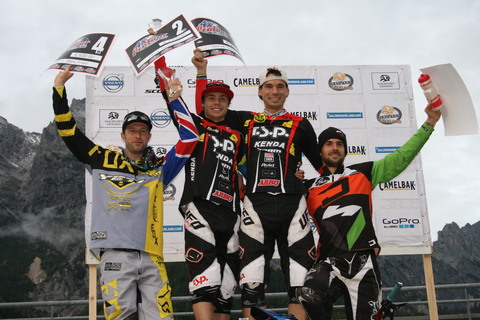 Comments are turned off for this item